The village of Follifoot is situated three miles to the south-east of Harrogate in rolling park and farmland. The centre of the village is located at the junction of the Pannal-Knaresborough and the Follifoot-Spofforth roads, with most of the older houses being found there. Views over the Vale of York, ranging from Sutton Bank, the TV transmitter at Bilsdale near Helmsley, Kilburn White Horse, Allerton Park, York Minster, Garrowby Hill, Thorparch and Tadcaster can be had from around the village which stands at six hundred feet (about 200 metres) above sea level.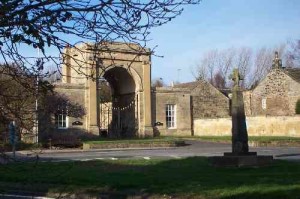 The village is unusual in that it is still "contained" at three points, where the narrowing of the main roads is still evident, namely at The Priory, the Radcliffe Arms and The Horse Pond Beck.The houses and barns are almost entirely built of local Yorkshire stone, and many of the newer houses incorporate some stone in their structure. Many of the older buildings have been altered by modernisation, however much of the old architecture still remains. Several houses were known to have thatched roofs, but are now roofed with stone slates, some with older red pantiles. Steep gable ends and stone corbels are a feature of the older houses.
At the centre of the parish lies the Rudding Park Estate, with its Regency House and Parkland, once the home to the Radcliffe family. The south gatehouse, now known as Rudding Gates, is a dominant feature of Follifoot main street.
The Horse Pond Beck flows across the line of the main street and reflects the long association of the village with horse sports. The name of the village being derived from the Norse meaning "Place of the Horse Fight". This sport was popular in medieval times and the village was probably a centre for the training of horses and the staging of fights.
Joining the beck at the Horse Pond is another stream, the Lolburn which runs beneath the main village street. At one time this was an open stream running down the side of the street. It was crossed by little bridges giving access to the houses. However it now goes underground near the cricket pitch and emerges under the bus shelter to run into Horse Pond Beck.