Church services are on the first and third Sunday of each month at 9.30 a.m.
This page was researched and written by Janette Butler. Copies are available from the church and village shop, all monies going to the church. The photo was taken by Karen Spencer.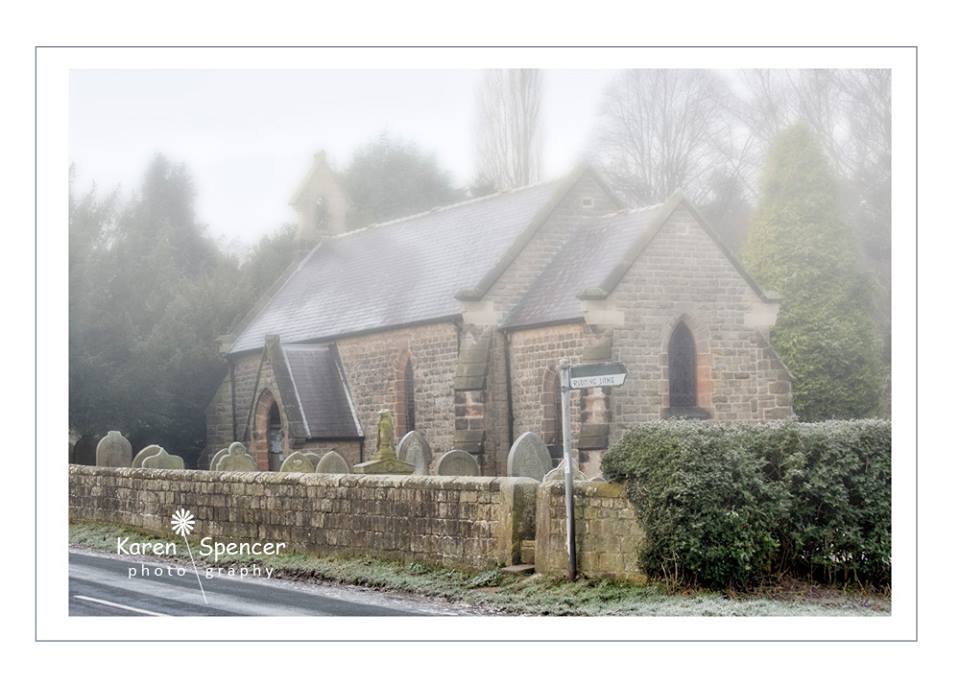 St. Joseph and St. James Church Follifoot, opened on 22nd October 1848. Sir Joseph Radcliffe granted part of Longlands field and erected the church on trust for the Rector of Spofforth to provide services. As the Rector at that time was the Rev. James Tripp, the name given to the church was considered appropriate.
The church was originally a chapel of ease and is thought never to have been ceremonially consecrated. Three stained glass windows on the east, north and south walls of the chancel are in memory of Sir Joseph Radcliffe (1799-1872). The nave stained glass windows and reredos commemorate members of the Leak family, residents around 1890 of the "Poplars" (now the "Priory") in Follifoot. The fine alabaster reredos has a central canopied subject of the 'Scene at Emmaeus'. The village Roll of Honour for the two World Wars is mounted on the north wall of the nave.
In 1955 a pulpit made by Thompson of Kilburn was installed as a memorial to the parents of Miss Wood of Crimple. Between 1964 and 1966 the church was provided with new pews, altar rail, credence table and Bishop's chair made by H C Townsend of Follifoot. The bell tower was renovated and lowered in 1975, to support a bell in memory of Mr. C. Cullingworth. The church underwent a major restoration in 1991, as a result of defects seen at the quinquennial inspection. Following the inspection the roof slates were turned, the nave and chancel ceilings replastered and the whole building redecorated.
The Churchyard
In July 1949 an extension to the churchyard was consecrated by the Bishop of Knaresborough, Henry De Candole. The land was given by Captain Sir Everard Radcliffe on the condition that one sixth of the land was to be used for Roman Catholic burials.
In January 1973 a faculty authorising formation of a garden of rest was registered in the Registry of the Consistory Court of the Diocese of Ripon. An area parallel with and backed by the churchyard wall on the northern boundary and to be planted with ornamental shrubs was designated. A Yorkshire Stone memorial headed 'Garden of Rest' was laid adjacent to the churchyard wall. There was space for thirty five entries of one inch lettering with one christian name, initials, surname and dates. A second memorial tablet was put in place in 1986.
To celebrate the centenary of the Women's Institute, in 1997, the members of the Follifoot group donated two stone containers, to hold vases for flowers, for the 'Garden of Rest'. The wording on the stone containers reads: 'WI CENTENARY' 1897 – 1997.